"Mohammed Bin Ham" the first Arab wins the medal "Gandhi World of humanity"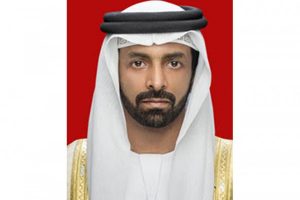 GENEVA, The Gandhi Global Family, GGF, an organisation affiliated to the United Nations, has awarded the Mahatma Gandhi Seva Medal of Humanity to Sheikh Dr. Mohammed Musallem bin Ham Al Ameri, Deputy Secretary-General of the Intergovernmental Institution for the Use of Micro- Algae Spirulina Against Malnutrition, IIMSAM, making him the first Arab to win this prestigious award.
The medal is one of the most important accolades awarded by Peace non government organisation GGF, and is the second highest award conferred by them, amongst the Mahatama Gandhi Award, the Brand Ambassador Award and the Gandhi Doot medal.
Alsheikh Dr. Al Ameri was presented the medal in Geneva, Switzerland, by the Vice President of the Gandhi Global Family, S. P. Varma, and in the presence of members of the GGF Executive Committee.
He was given the award due to his concrete efforts to combat malnutrition and hunger in the world, as Deputy Secretary-General of IIMSAM, and his role in community development and support for world peace.
On explaining the significance of the award, Varma said, "This prestigious award is not only important because its name is associated with Mahatma Gandhi and his humanitarian values, but is an award given after examination and scrutiny of influential human figures with concrete efforts."
He added that Dr. Al Ameri remarkable efforts have helped further IIMSAM's fight against malnutrition, not just in the Arab states, but globally as well. He has been an active part of initiatives such as the Sheikh Zayed Centre for Free Distribution of Spirulina in Kenya, since its establishment in 2009.
Dr. Al Ameri expressed great happiness in winning this high medal, emphasising that it holds even more significance as it comes to the UAE in 2018, the year that has been marked by the nation as 'The Year of Zayed.